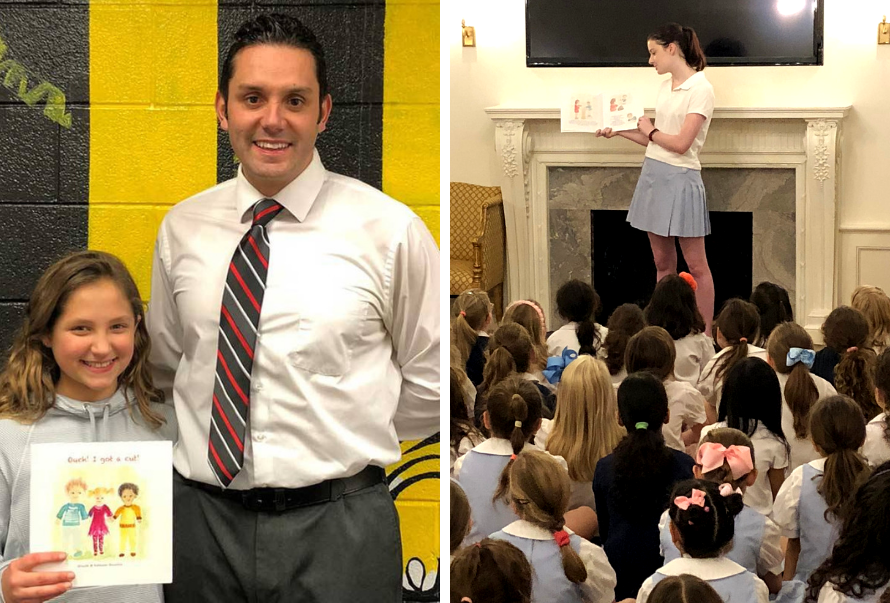 Young People Take the Lead
Here at the Foundation, we are guided every day by our memories of Rory. Rory was a leader, an advocate, a believer in the ability of the individual to make a difference. That's why we are always especially delighted to recognize the work that young people–the leaders of tomorrow (and in some cases, today!)–are doing to further sepsis awareness.
In honor of World Hand Hygiene Day, we'd like to recognize several young people whose dedication to educating their communities about sepsis fills is with hope:
1. Caroline Robitaille of Union Township, New Jersey, is a Girl Scout Cadette in the eighth grade. After reading an article about Rory and the work of our Foundation, Caroline dedicated herself to raising awareness of sepsis ahead of World Sepsis Day. Caroline developed the "Pink Day Out" campaign and persuaded the Union Township PTA and School Board to support it and to supply the elementary school classes in her district with copies of Ouch! I Got a Cut!, the Foundation's book for young readers. She was able to take a day off school to read the book to all five elementary school classes and educate them further about sepsis. According to Caroline, "The week after my talk at the elementary school, my family and I were out in town and we saw the parents of one of the students I read to. The mom came up to me and thanked me for teaching her daughter about proper wound care as she was so impressed what she learned about sepsis and what her daughter taught her family. That made me very proud." We're proud of you too, Caroline! Caroline is now in the running the receive the Girl Scout Silver Award for her work raising awareness of sepsis.
2. Talia Coopersmith is a high school junior in Atlanta, Georgia. Talia chose to implement sepsis education in her school district for her Girl Scout Gold Award project after being inspired by the Foundation's work. She designed presentations for elementary and middle school students in her district and thoughtfully took note of the different levels of knowledge she encountered at different schools. "This disparity helped me to understand the importance of the foundation's lesson plans. They are very accessible to their targeted age group and do a very good job of building up information," she said. Talia deserves our sincere thanks and appreciation for teaching hundreds of children a potentially lifesaving lesson!
3. Many of you know Kathleen Staunton, Rory's younger sister. Kathleen adored her big brother and her life will never be the same after losing him. Kathleen was inspired to write Ouch! I Got a Cut! with her mother after watching a wound on a basketball court go untreated–exactly as Rory's was. The read-along book for young children teaches the importance of caring for cuts and scrapes to prevent infection. Kathleen led a reading of the book with elementary classes at her school. "I'm glad I got to share the three C's with the Lower School: If you get a cut, clean and cover it. Our three C's campaign can protect everyone from dirt and germs that cause infection and help them stay healthy and strong!"