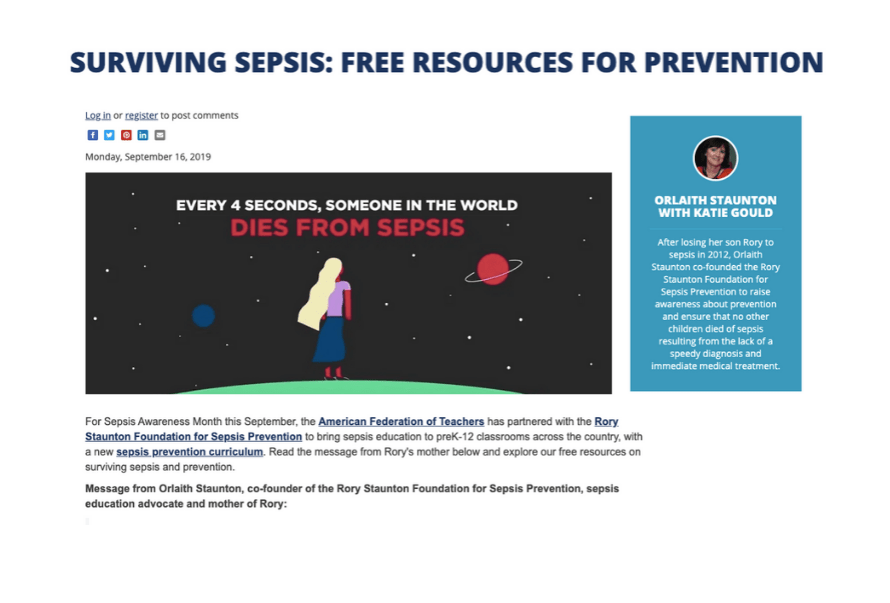 Bring Sepsis Education to Your School this Sepsis Awareness Month!
Through our partnership with the American Federation of Teachers (AFT), the Rory Staunton Foundation offers comprehensive K-12 sepsis education lessons on the AFT's Share My Lesson platform.
Teaching our children to protect themselves and their communities from infection and recognize the signs of sepsis is an important part of combating the condition. Read our blog on the AFT website and download the lessons here:
https://sharemylesson.com/blog/surviving-sepsis-education
Surviving Sepsis: A Preventative Curriculum
Leading health organizations and experts agree that lives can be saved when patients and healthcare professionals are able to recognize sepsis symptoms early on and receive or provide the right treatment. It's important to make sepsis a household name so that when symptoms strike, people know to ask, "Could it be sepsis?"
This sepsis prevention curriculum will help you educate your students about this major health issue. Not only will today's children be responsible for their own healthcare decisions as they grow up, but they will also become the doctors, nurses and other medical professionals of tomorrow.
The lessons below, which are aligned to various national standards, were created by teachers with experience teaching about sepsis in their own classrooms.
We urge you to share this sepsis prevention curriculum—full of engaging, standards-aligned preK-12 lessons—with your students during Sepsis Awareness Month and beyond, and join the coalition of educators, health professionals, legislators and families dedicated to spreading the word about sepsis in order to save lives. Get started with this two-minute sepsis tutorial, and then check out the lessons below, available at Share My Lesson and the Rory Staunton Foundation for Sepsis Prevention.