2023 National Forum on Sepsis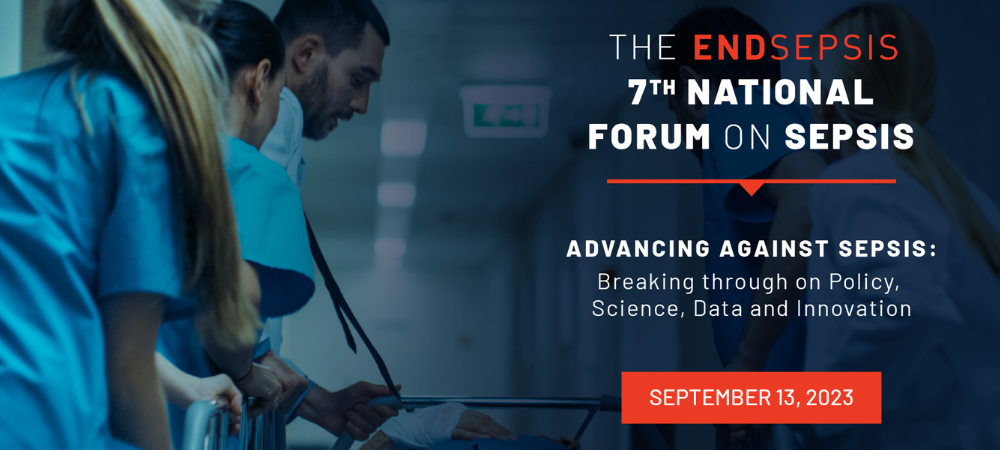 ADVANCING AGAINST SEPSIS:
BREAKING THROUGH ON POLICY, DATA, SCIENCE & INNOVATION
The 2023 National Forum on Sepsis was held in Washington DC on September 13th, 2023–World Sepsis Day. The entire event was streamed globally and viewed by hundreds of people in more than 35 countries.
The Forum focused on the recent gains that have been made by END SEPSIS in their effort to make sepsis the national priority it deserves to be. Achievements have included consequential new funding directives in the federal budget a newly engaged Congress and White House and the development by federal agencies of new initiatives and strategies to improve sepsis care. Additionally, exciting private sector innovations are changing how we diagnose and treat sepsis.
By consolidating these recent policy gains and capitalizing on the significant momentum we have built at the federal level, we now have an historic opportunity to institute a national approach to addressing the sepsis crisis–the only way to create significant, widespread reduction in sepsis mortality and morbidity.
At the END SEPSIS National Forum on Sepsis, leaders in government, public health, medicine, private industry and patient advocacy analyzed recent gains and future plans and what they mean for the healthcare system and for everyday Americans.
The event was moderated by Dr. Martin Doerfler, END SEPSIS Board Member, END SEPSIS Expert Advisory Panel Member & Executive Vice President of Healthcare, Truveta.
The full event recordings can be viewed below.
EVENT OPEN
Senator Charles E. Schumer, Senate Majority Leader
Michael Dowling, President & CEO, Northwell Health
Ciaran & Orlaith Staunton, Founders, END SEPSIS
Dr. Kevin Tracey, President & CEO, Feinstein Institutes for Medical Research
PANEL ONE: The Federal Government Takes on Sepsis
In the past year, unprecedented gains have been made in the effort to make sepsis the national priority it deserves to be. The federal budget now incorporates consequential funding directives aimed at addressing sepsis and both Congressional leaders and the White House have expressed their commitment to further advancing these efforts.
Our esteemed panelists will discuss the advancements made thus far, as well as current and future strategies and their implications for the healthcare system, hospitals, clinicians, and patients and the crucial role of Congress and federal healthcare agencies in reducing the human and economic toll of sepsis.
Maureen Dowd
Columnist, New York Times
Sally Quinn
Patient Advocate
Dr. Foster Gesten
Former Chief Medical Officer for the Office of Quality and Patient Safety
New York State Department of Health
Co-Chair, END SEPSIS National Sepsis Initiative Expert Panel
Dr. Denise Cardo
Director of the Division of Healthcare Quality Promotion
National Center for Emerging and Zoonotic Diseases
CDC
Dr. Ron Kline
Chief Medical Officer
Quality Measurement and Value-based Incentives Group
Center for Clinical Standards and Quality
CMS
Dr. Robert Valdez
Director
Agency for Healthcare Research and Quality (AHRQ)

PANEL 2: New Data and New Ideas on a National Approach to Quality Improvement

Leaders of public sector and nonprofit quality improvement organizations and initiatives will share newly-learned insights into the disease burden of sepsis and their visions for impactful measures to enhance a national approach to sepsis quality improvement.
Orlaith Staunton
Executive Director
END SEPSIS
April Chavez
Patient Advocate
Dr. Nirav R. Shah
Senior Scholar at Stanford University
Co-Chair, END SEPSIS National Sepsis Initiative Expert Panel
Dr. Kedar Mate
President & CEO
Institute for Healthcare Improvement
Dr. Hallie Prescott
Associate Professor, University of Michigan
Co-Chair, Surviving Sepsis Campaign Guidelines
Dr. Peter Silver
Chief Quality Officer and Associate Chief Medical Officer, Northwell Health
Advisor, Children Hospital Association's Improving Pediatric Sepsis Outcomes (IPSO)
National Expert Advisory Group and Steering Committee
PANEL 3: Innovation Breakthroughs: How Scientific Discoveries, AI and Big Data
are Transforming Sepsis Care
Exciting new private sector innovations are changing how we diagnose, treat, and deploy data on sepsis. The work of these innovators will be vital to meeting mortality reduction targets in healthcare settings. Panelists from the private and public sectors will discuss the most promising new developments in responding to the sepsis crisis.
Phoi Ly
Patient Advocate
Dr. Kevin Tracey
President & CEO
Feinstein Institutes for Medical Research
Martin Doerfler
Executive Vice President of Healthcare
Truveta
Dr. Gregg Nicandri
Chief Medical Information Officer
University of Rochester Medical Center
Colonel Ian Stewart
Director, Division of Nephrology and Professor of Medicine
Department of Medicine, Uniformed Services University