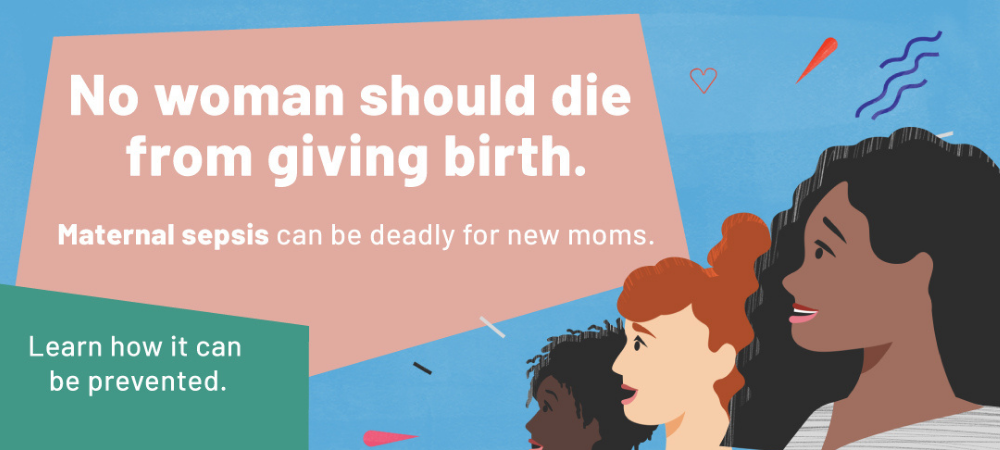 Maternal Sepsis is the Second Leading Cause of Maternal Death.
Let's End That.
We have made it our mission to end preventable deaths from sepsis–including for new and expectant mothers. Maternal sepsis is the second leading cause of maternal death in the United States. Those who survive are often left with severe physical, emotional and psychological trauma. To reduce its devastating impact on the lives of women and their families, END SEPSIS has developed a comprehensive campaign to raise awareness of maternal sepsis among patients and healthcare providers.
Jump to: 
What is Maternal Sepsis?
Sepsis is a life-threatening condition caused by an infection. The body attacks its own organs and tissues, leading to tissue damage, organ failure, and sometimes death. Sepsis that occurs during pregnancy, childbirth, after an abortion, or in the days and weeks following childbirth is called maternal sepsis.
Maternal Sepsis: What You Need to Know.
Learn more about what causes sepsis during and after pregnancy, how to recognize maternal sepsis, and how to get treatment: 
Want to know more? Download and share our Maternal Sepsis Fact Sheet for more detailed information.
Join the Fight to End Maternal Sepsis
Protecting women from maternal sepsis starts with education and empowerment. Women who feel unwell during pregnancy and after they give birth are often told that these feelings are normal, especially after long labors and C-section surgeries; their concerns are dismissed. By educating pregnant women, new moms and their families about maternal sepsis and empowering them to use their voices to demand the care they deserve, we can spare them from the potentially disastrous consequences of maternal sepsis.
Spread the Word: Social Media Assets
Our public service announcement and social media assets share critical key messages that all pregnant women and new mothers should hear. Share them widely. It could save a life.
Share by clicking on the social icons to the left of each image or for Instagram, download each file by clicking on the link under each image and creating a new post. Receive all social media assets when you download the Maternal Sepsis Toolkit.
Informational Brochures & Fact Sheets
Download brochures and fact sheets for patients and providers at the links below: 
Receive all social media assets when you download the Maternal Sepsis Toolkit.
End Maternal Sepsis Campaign: A

bout the Initiative.
The United States has the highest rate of maternal death in the developed world.(1) What's more, the U.S. is the only developed country where maternal mortality rates are rising rather than falling.(2) Black women are three times more likely to die of pregnancy-related issues than white women. (3) Maternal sepsis is the second leading cause of pregnancy-related death in the United States.
In 2019, END SEPSIS was awarded a contract by the Department of Health and Human Services' BARDA DRIVe program to address the maternal sepsis crisis.
New York State Department of Health Collaboration
Central to this initiative is our partnership with the New York State Department of Health. END SEPSIS partnered with the NYSDOH Office of Quality and Patient Safety to identify all cases of maternal sepsis in New York State between 2016 and 2018.  These data were then analyzed to identify the factors that place some women at higher risk of developing sepsis, including demographic characteristics, comorbidities and associated obstetric procedures.
By identifying those women at increased risk of maternal sepsis, we can ensure that they are targeted with education and interventions that could save their lives. Our analysis found that:
The vast majority of maternal sepsis cases occur in the days following the delivery
Women who undergo C-section deliveries are almost 3 times as likely to develop maternal sepsis as those who deliver vaginally
Hispanic, Black and Asian women are at significantly higher risk of developing maternal sepsis than White women.
Women under the age of 20 at the time of delivery are at significantly higher risk than women over the age of 20
A continuum of care was then developed to identify opportunities for intervention to help prevent, identify and rapidly treat maternal sepsis. This work is being used to help clinicians, nurses, hospital administrators, birth workers and others engaged in the care of pregnant and postpartum women better serve their patients. It is also a powerful tool for remedying the severe inequities in maternal care in New York State and beyond.
For more information on the New York State data analysis and findings, visit our NYS Data Analysis regarding maternal sepsis.
Maternal Sepsis Coalition
Our maternal sepsis work is supported by a multi-sector coalition of state and federal organizations, government agencies, and nonprofits invested in improving outcomes for pregnant and postpartum women. These include:
Maternal Sepsis Patient and Provider Education
In addition to the public awareness and education materials included above, END SEPSIS and its coalition partners developed two webinars for maternal health providers covering the findings of risk factor analysis and continuum of care. These webinars are now available on demand and are eligible for Continuing Medical Education credits. You can view them here NYS Data Analysis.
We are actively working with our coalition partners and other organizations invested in the health and well-being of women and their families to raise awareness of maternal sepsis. We're also building a league of women and the people who care about them to end maternal sepsis.
The END SEPSIS Maternal Sepsis Initiative is funded is part by: